---
UPDATE: FEBRUARY 2021:
The second call for proposals closed on 20 December, 2020 after a very successful Fall fundraiser thanks to our members and supporters.  The following organizations were selected to receive funding from our Humanitarian Fundraiser funds:

 

The Croix Rouge, located in Zoundweogo, Centre-Sud Region was once again selected to receive funds to create a borehole/well in the Bindé/Gogo commune to provide water to internally displaced people and provide opportunities for IDPs to raise livestock, contributing to FBFs goal to support economic empowerment in this area.  The well is currently serving 231 persons but has the capacity to serve 700.  As of September 2021, this has been completed.  

 

  

 

 

Global NEEED, located in Nord Region was also selected a second time to provide emergency food assistance to internally displaced people in Ouahigouya.  They also provided table-bancs to 9 schools in the region to deal with overcrowding and to ensure IDP students have a place to sit and learn. Global NEEED activated their FBF grant very quickly and sent along some great progress photos below!  As of September 2021, this has been completed. 

 

    

 

And finally, a new FBF partner called La Société Coopérative Simplifiée YANBUAMA, located in Province de Tapoa, Region Est was chosen to receive funds in order to provide emergency assistance to internally displaced families in Diapaga and to train 100 internally displaced women in processing/transforming shea kernels as a form of economic empowerment.  See pictures from their shea transformation below!  As of September 2021, this project has been completed. 

 

    
UPDATE: JULY 6th: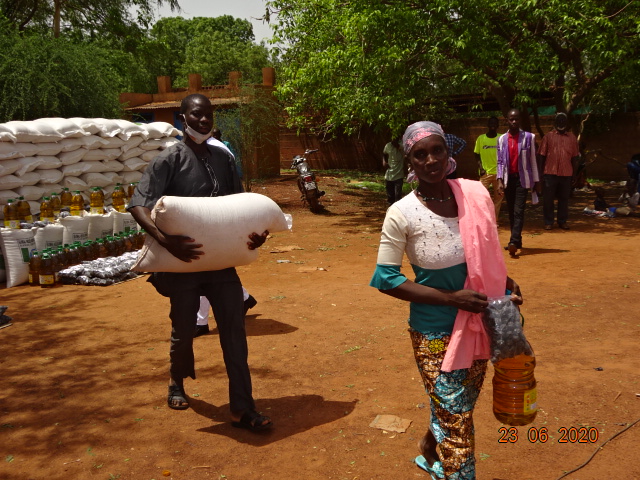 Thanks to your generous donations, we are pleased to announce that our fund surpassed $60,000!  That blows our past fundraisers out of the water by more than double!  Each and every donation is greatly appreciated and counts toward achieving this sum.  
Every proposal for funding responds to the urgent needs of internally displaced people (IDP) who have fled terrorist attacks in their villages, with one of the highest priorities to address food insecurity. Our fundraiser goals were to help where the need is greatest, buy time for the government and aid organizations to expand their assistance capacity, and to demonstrate our solidarity with the Burkinabé people during this very difficult time.
The organizations we will be supporting include: Association Impact Jeune (Ouahigouya), Panissé (Kaya), Association Annoura (Sebba), Croix Rouge (Gogo & Bindé), and Global NEEED (Ouahigouya).  Some of these organizations we have worked with in the past, and some organizations are new to FBF.  In total, your contributions will reach these 5 organizations in 4 towns, reaching over 3,950 people for a period of 3 to 5 months.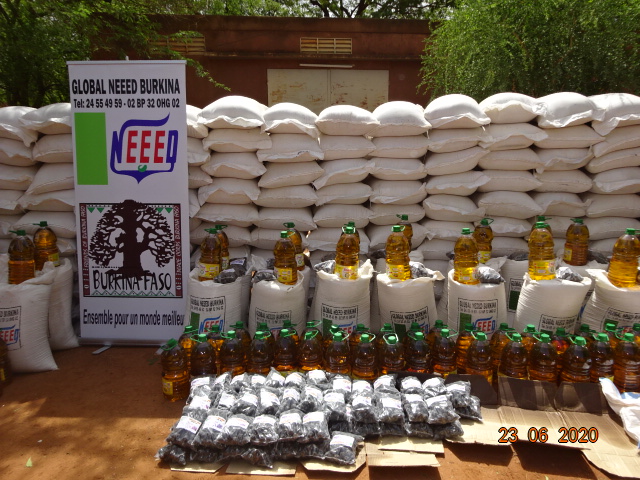 In addition to food, these funds will be used for hygiene kits to help stop the spread of Coronavirus, provide training on gender-based violence and sexual & reproductive health in conflict settings for girls ages 10 to 16, and support small communities who find themselves taking in hundreds (or more) of displaced families. All of the selected organizations work directly with these families and communities, some in refugee camp settings, and some living with host families.  
Our Board is finalizing the transfer of funds and has requested a report-back to ensure accountability for the expenditure of these funds. We have already received photos of the food distribution from Global NEEED; scroll down to see! 
Again, THANK YOU!  We couldn't have done this without your generous support. As always, if you have more ideas for how FBF can adapt and respond to the needs of our families and friends in Burkina Faso, please reach out. 
-Aaron Buchsbaum and the FBF Board
Scroll down to meet our partners and see project updates! 
Meet Association Impact Jeune (Ouahigouya)!  Impact Jeune will work with at least 50 girls in refugee camps in Ouahigouya. Along with food, Impact Jeune will distribute hygiene kits and provide information on reproductive health, sexual abuse, and human trafficking. Impact Jeune's proposal was 100% funded.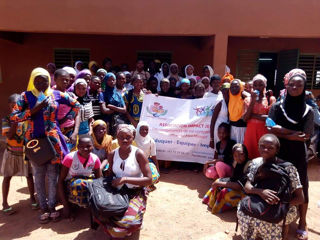 .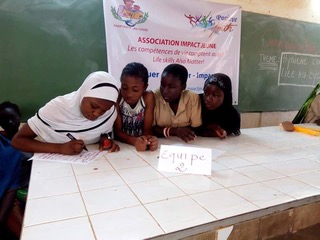 Meet Association Annoura, intervening in the village of Sebba. Sebba, the capital of the Yagha province,is located in northeastern Burkina Faso, 365 km from the capital city of Ouagadougou and 32 km from the border with Niger. Because of its isolation and location in the north, from where terrorists started entering the country in 2015, the villages that make up the Yagha Province are subject to incessant terrorist attacks. Sebba has been victim to fewer attacks than the surrounding villages and has become the center for the Internally Displaced Persons (IDPs) of the entire province. All civil servants who were stationed in Sebba have left, and the town lacks basic services for its population, which has now more than doubled its size. 
The grant will help residents of Sebba, both the IDPs and the native resident population, to scale up efforts to meet their basic needs including food, sleeping mats, water fetching buckets and jugs, cooking and serving kits, and also soap both for cleaning and to prevent the spread of COVID-19, as well as locally made masks to counter the pandemic.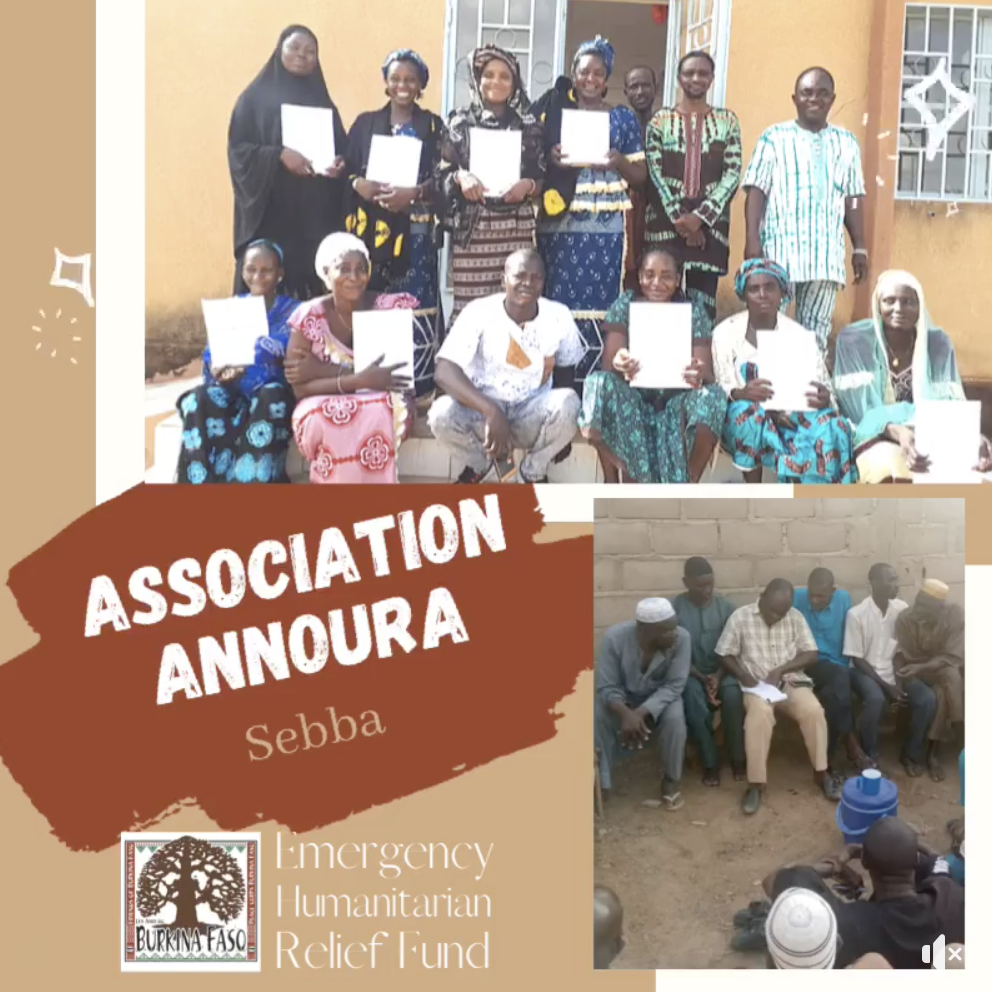 Meet the Croix Rouge of the Province de Zoundweogo, which is located in the south central of Burkina Faso. The funds will be used to provide food to 300 of the most vulnerable families in the the villages of Gogo & Bindé.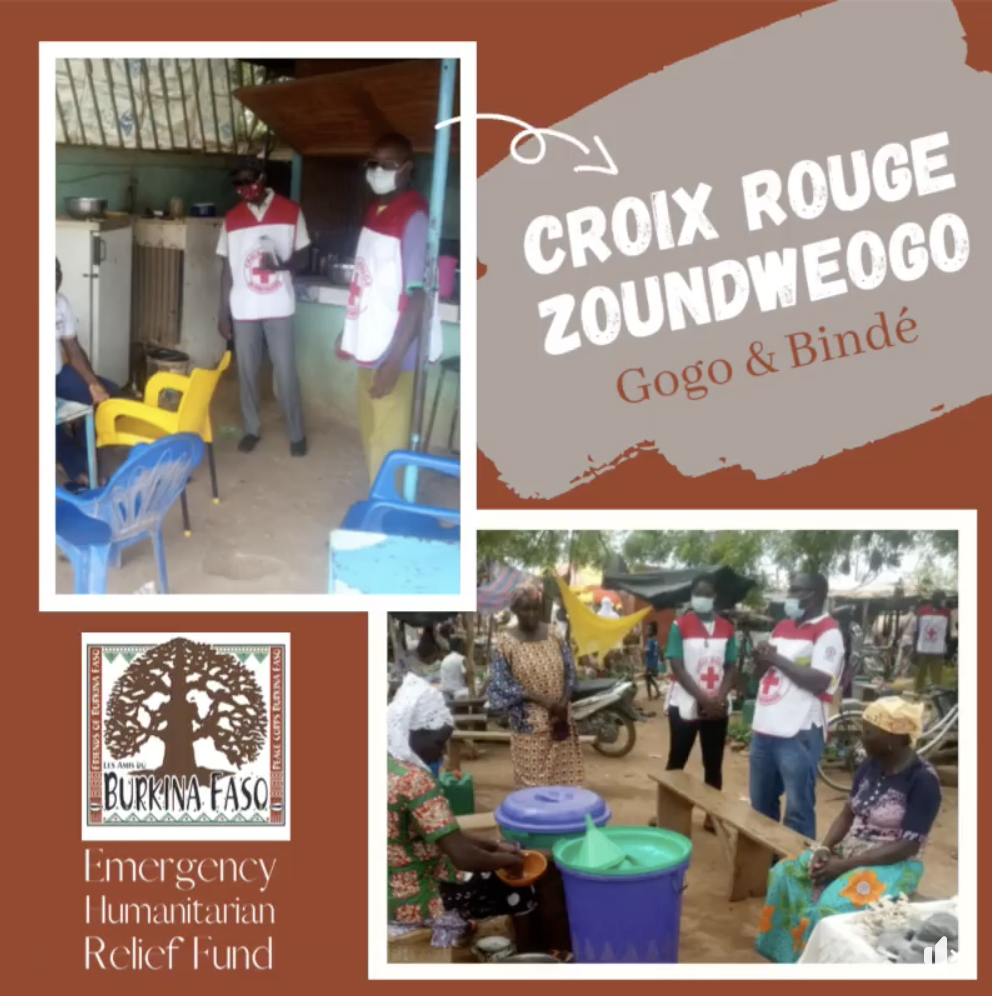 Meet longtime FBF partner, Global NEEED. NEEED has worked with FBF for many years on our girls' education projects. We are excited to expand our reach through NEEED's established network. Global NEEED will provide food to displaced families living in refugee camps in Ouahigouya.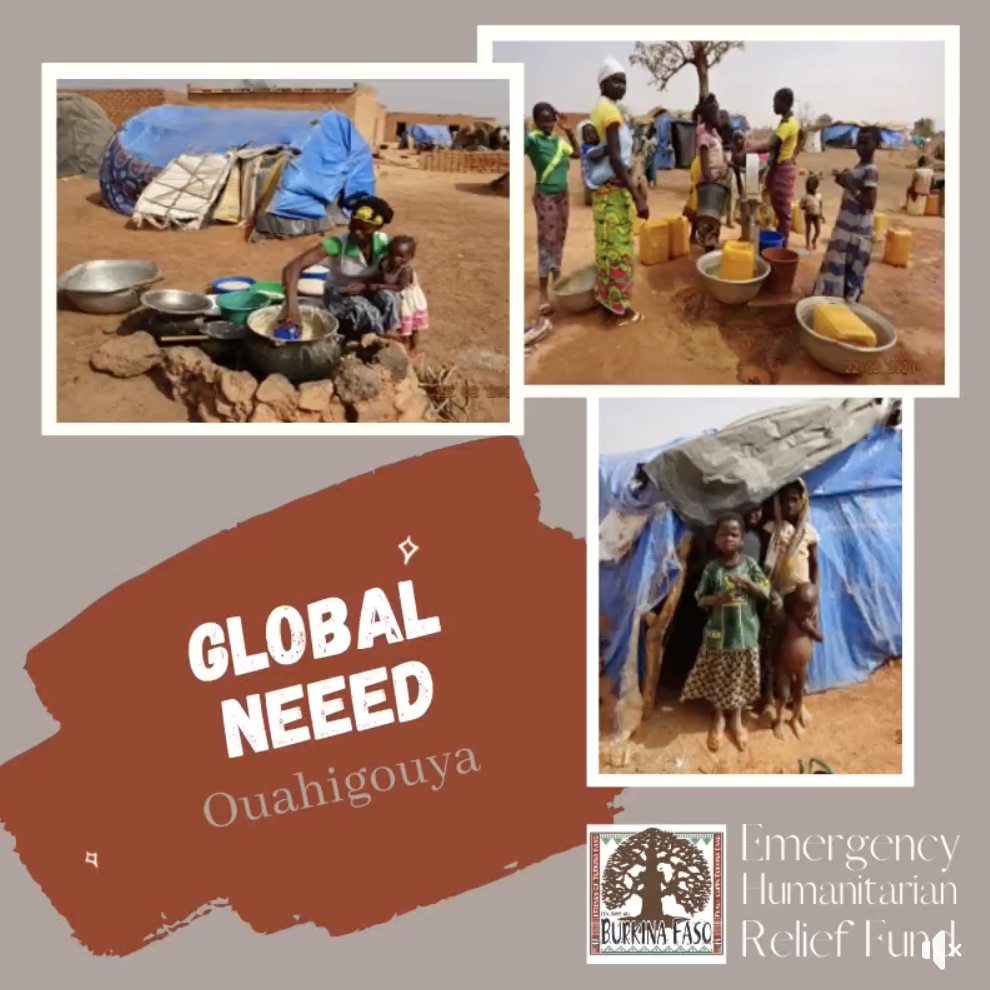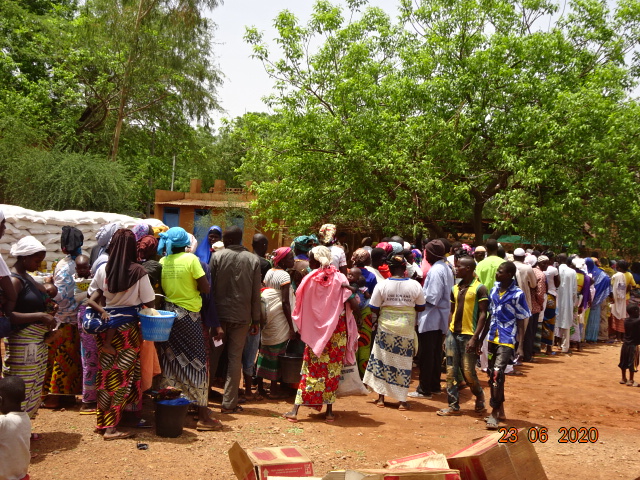 .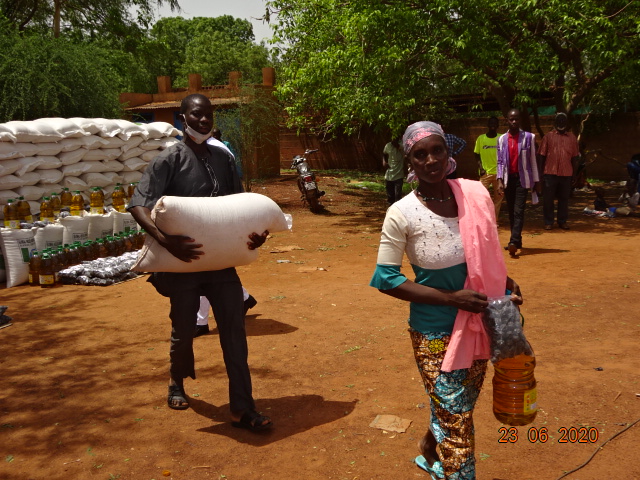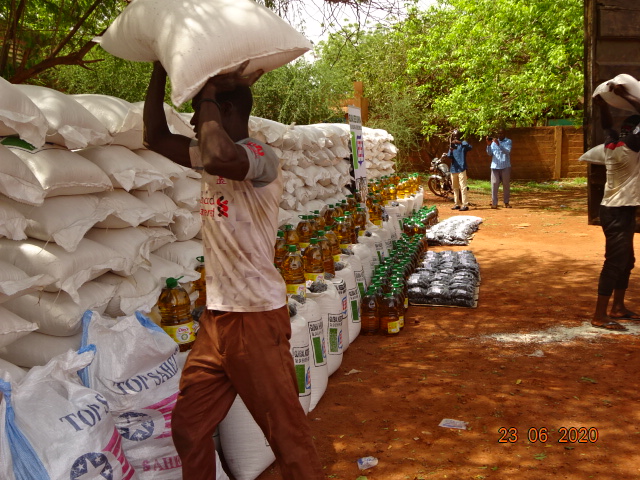 .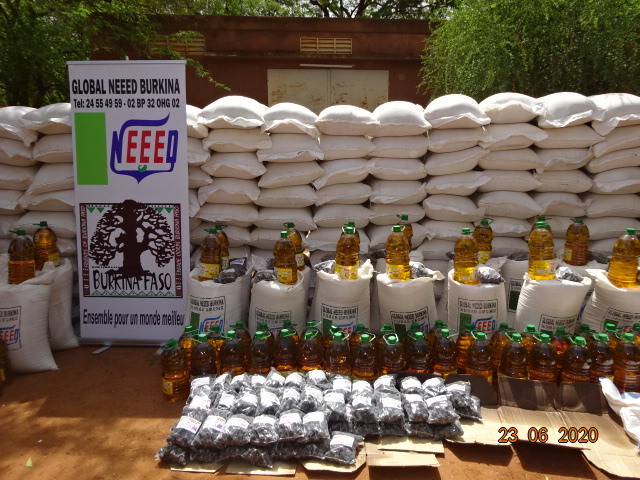 Finally, meet Association Panissé.  FBF previously worked with Association Panissé to support families impacted by the August 2017 terror attacks in Ouagadougou during our "Kick Terrorism Out of Burkina" Campaign.
With Emergency Humanitarian Relief funding provided by our generous donors, Association Panissé will provide food and much needed materials to displaced persons in and around Kaya in the Sanmatenga province.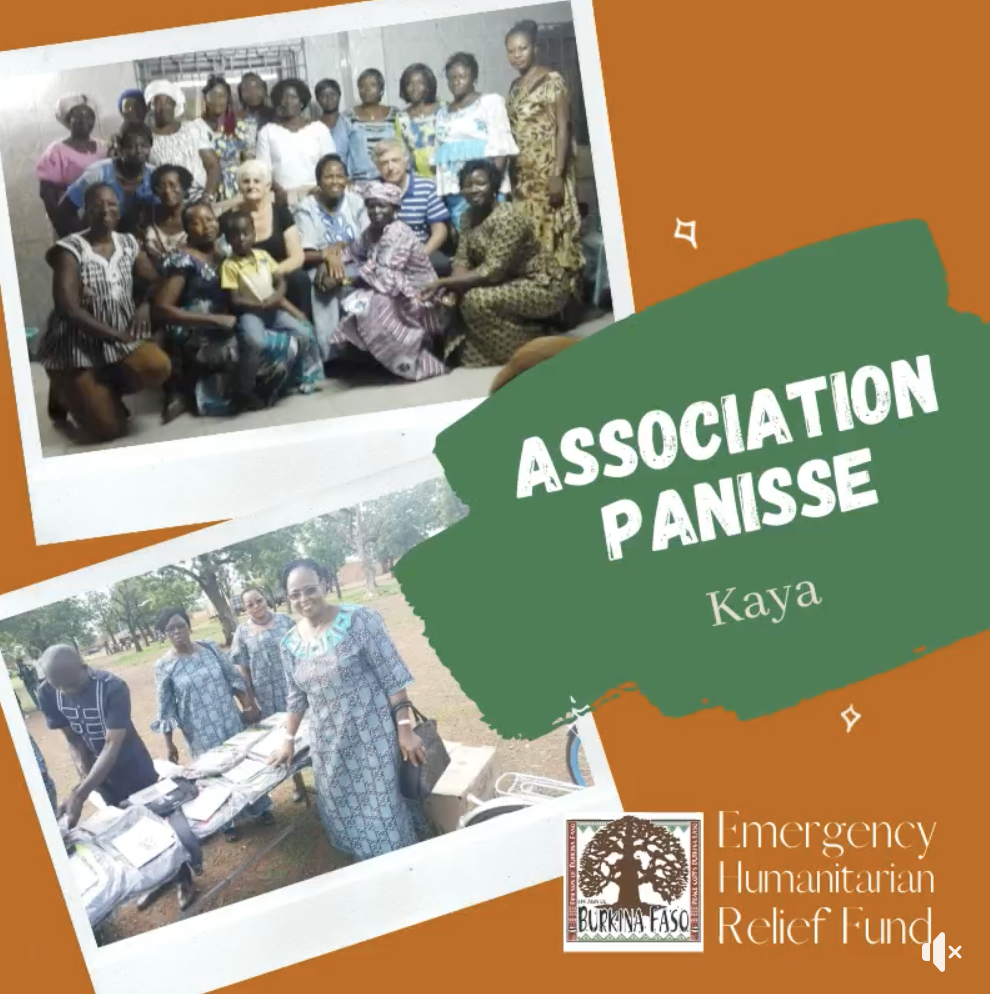 UPDATE: JUNE 15th:
We are no longer fundraising for this project.  If you would like to contribute to future projects, please visit our Donate page.  
UPDATE: MAY 3rd:
Friends of Burkina Faso is in the final week of fundraising to bring much needed basic support to vulnerable families displaced or otherwise struggling as a result of extreme violence in Burkina Faso.  
We have a new stretch goal AND a new matching opportunity. . 

Our goal: $86,000. As an example from proposals we've received, this sum could support vetted local organizations to provide food (beans and rice at a cost of $.29/meal/person/day) to a portion of 2600 internally displaced people who have recently arrived in one area around Ouahigouya.

And yet, we know this is only one potential way to respond to needs of many people across the country. Whatever we achieve, together with you, will lend help where the need is greatest and buy time for the government and aid organizations to expand their assistance capacity.  
To date, we have raised $24,000. We thank everyone for their support so far but this is now only 28% of our target. We need more to reach our goal and have the impact to which we aspire. 
Matching opportunity: $22,000. A generous donor has just promised to match all donations, beginning today, up to $22,000!   Please donate today and double the impact of your donation.  Even if you have already donated, please consider donating again so that we reach our goal and bring relief to this beleaguered part of our beloved Burkina.  
You can donate in 3 ways: 
Down below on our website (choose "Emergency Humanitarian Relief Project") 
On our GlobalGiving project page 
Via check (to: Friends of Burkina Faso, PO Box 395, Chester, CA 96020) 
Once again, we have raised $24,000 but we need to raise $86,000. We have 7 days left and $22,000 in NEW matching funds at stake—and within reach if you help.    Please donate today and double the impact of your donation!   
Thank you sincerely for your generosity, 
Friends of Burkina Faso board and volunteers