"The peace efforts you are recognizing in me reflect the love of peace dwelling in the hearts and souls of the Burkinabè people." – Mogho Naba Baongo II, Award for Peace recipient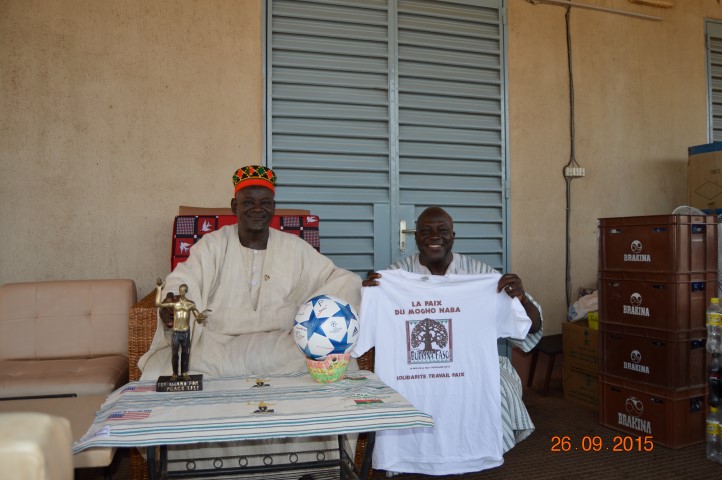 The Mogho Naba was unanimously selected as recipient of the Award for Peace in 2015. The choice reflected his role in mediating for the cause of peace in Burkina Faso and also regionally for many years, including during the insurrection that led to end of Blaise Compaore's presidency. Naba played a key role in supporting a civilian transitional government for democratic elections in October of 2015.
Incredibly, the Mogho Naba showed his strength as a leader of peace during the week of the award ceremony itself (September 16, 2015). The Régiment Présidence Sécurité (RSP), a presidential guard unit loyal to Blaise Compaore, had just engaged in a coup to overthrow the transition government. The next few days were tense as thousands of people marched on Ouagadougou in opposition. The Mogho Naba, alongside West African presidents and regional leaders, was pivotal in establishing a temporary accord to avoid violence, eventually leading to the retreat of the RSP and an effective and transparent democratic election.
For his exceptional and courageous work for peace, His Majesty the Mogho Naba designated the Burkinabe NGO Home Kisito as the recipient of the $2000 donation in his honor. Founded by missionaries in 1931, Home Kisito is a widely known and well-respected orphanage in Ouagadougou.
The FBF Award for Peace is funded through individual donations. We provide the winner with a $2,000 prize donated directly to a non-profit of their choice, and host a small recognition ceremony with the press.